Jan Valenta
PhD., professor

Division of Optical Spectroscopy
Department of Chemical Physics and Optics
Faculty of Mathematics & Physics
Charles University Prague

Postal address:
Charles University in Prague
MFF UK, KCHFO
Ke Karlovu 3
CZ-121 16 Prague 2, Czech Republic

Phone: +420-2-21911272
Fax: +420-2-2191 - 1249 or 1432
E-mail:jan.valenta(et)mff.cuni.cz

Research Interests:
Nanophotonics

and nanotechnology




Single nanoobject spectroscopy




Silicon nanostructures



Instruments, techniques and methods of optical spectroscopy and microscopy

Scientific Imaging (Photography)
Teaching:
Lectures

J. Valenta, K. Herynková - (OOE 035) Luminiscenční spektroskopie polovodičů (Luminescence spectroscopy of semiconductors)
J. Valenta, K. Herynková - (OOE 110) Polovodičová luminiscence a její aplikace (Semiconductor luminescence and its applications)
J. Valenta - (BCM 101) Detekce a spektroskopie jednotlivých molekul (Detection and spectroscopy of single molecules)
J. Valenta - (BCM 115) Vědecká fotografie a příbuzné zobrazovací techniky (Scientific photography and related imaging techniques)

Laboratory training
Fyzikální praktikum III. - Optika a atomová fyzika (OFY 028) (Basic experimental physics training III. - Optics)

Praktikum z experimentálních metod biofyziky a chemické fyziky II. (BCM 103) (Advanced training in experimental methods of biophysics and chemical physics II.)

Publications: link

Research Projects:

link

International Collaborations:
- Kobe University, Japan (group of Prof. Minoru Fujii)
- Royal Institute of Technology, Stockholm, Sweden (group of Prof. Jan Linnros)
- Amsterdam University, Netherlands (group of Prof. Tom Gregorkiewicz)
- IMTEK, University Freiburg, Germany (group of Prof. Margit Zacharias)
etc.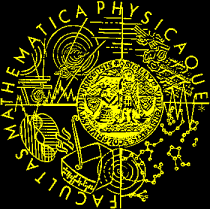 Anna Fučíková


Mikel Greben


RESEARCH



Collaboration


POPULAR




<< Back to
NANOPHOTONICS