Planned topics include
new developments of computational approaches in biochemistry and biophysics, applications of quantum chemical methods on molecular models,
modeling interaction in molecular materials, modeling new molecular materials, drug design
molecular dynamics, Monte Carlo and molecular mechanics simulations in biodisciplines.
Download conference flyer, click here.

Modeling Interactions in Biomolecules IX will be held in charming Conference center Floret at the Chateau at Průhonice, in beautiful atmosphere of "Průhonický park". The contemporary shape of the Chateau at Průhonice village is a result of numerous reconstructions of the small medieval Gothic castle.

The natural park (the area of 250 hectares) was founded in the year 1885 by the Count Arnošt Emanuel Silva-Tarouca. He used the changeability of woody plants in different seasons of the year with great skill. The result of his lifelong hard work is an original masterpiece of garden landscape architecture of worldwide importance belonging to UNESCO heritage.
Apart from its artistic and historic significance, the park is also valuable from the dendrological point of view with its collection of about 1.600 species of local and exotic plants. The collection of rhododendrons is particularly unique. There are about 8.000 rhododendrons within 100 taxa and cultivars.

Official conference center's web pages: www.floret.cz .
Some illustrative pictures of the castle and surrounding park (just next to the conference center) can be also seen on our page Photos...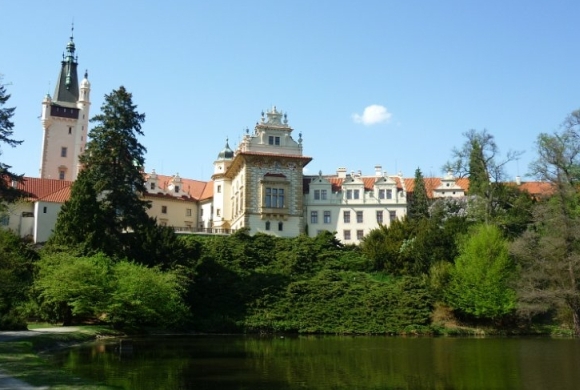 Previous years of the conference

Modeling Interactions in Biomolecules, Nové Hrady 2003, Czech Republic
Modeling Interactions in Biomolecules II, Prague 2005, Czech Republic
Modeling Interactions in Biomolecules III, Prague 2007, Czech Republic
Modeling Interactions in Biomolecules IV, Hruba Skala 2009, Czech Republic
Modeling Interactions in Biomolecules V, Kutná Hora 2011, Czech Republic
Modeling Interactions in Biomolecules VI, Marianské Lázně 2013, Czech Republic
Modeling Interactions in Biomolecules VII, Prague - Průhonice 2015, Czech Republic
Modeling Interactions in Biomolecules VIII, Plzeň 2017, Czech Republic


Some other conferences are displayed on the web-site:
http://server.ccl.net/chemistry/announcements/conferences/index.shtml